The FORWARD Reports: Rabbi Charlie Cytron-Walker resigned in November amid controversy….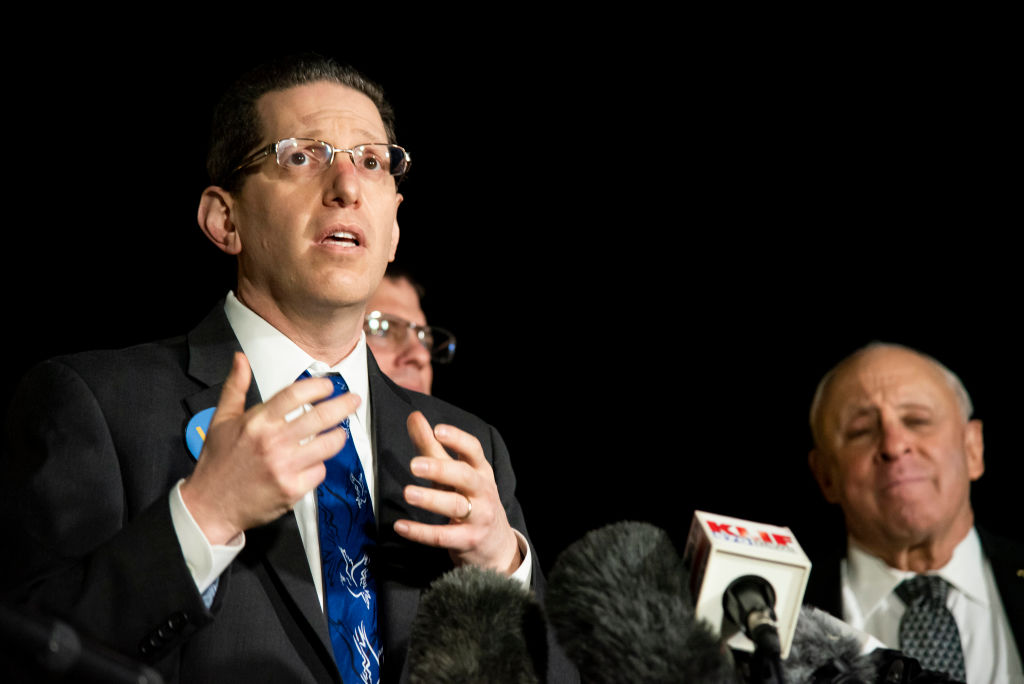 Rabbi Charlie Cytron-Walker speaks outside a solidarity service on Monday. (Getty Images)
The Texas rabbi celebrated around the world as a hero for freeing three congregants and himself from a gunman in an 11-hour synagogue siege is set to leave the community in June, the Forward has learned.
Backstory: Rabbi Charlie Cytron-Walker resigned in November amid debate about whether his contract would be renewed. Rabbi Ben Sternman of Adat Chaverim in Plano, Texas, part of a foursome of area Reform rabbis including Cytron-Walker that meets weekly, said "he showed up for lunch one week and he was looking very upset." He is on the market for a new pulpit and the synagogue was in the midst of searching for an interim rabbi when Saturday's hostage situation occurred.
A long tenure: Cytron-Walker has led the synagogue since 2006. Marta Johnson, who had worked in recent years as a High Holiday soloist at the synagogue, said "a lot of people in the congregation are pretty upset" about his impending departure.
Murky reasoning: The rabbi is known for his social-justice advocacy and interfaith bridge building. A man claiming to be a former member of the synagogue said he had left the congregation because Cytron-Walker referred to Israel as an apartheid state* and did not allow guns in the shul, a claim picked up by right-wing media but not otherwise confirmed. "They would not tell us why they want him to resign," Sandy Barenholtz-Silverman, who attended Beth Israel, said of the synagogue's leadership.
Mutual decision? Anna Eisen, a co-founder of Colleyville's Congregation Beth Israel, said the rabbi and the synagogue president had agreed on the departure. "As a congregation we have been very heartbroken and distraught, she said, adding: "I myself have begged him to stay, but I also realize that he has given us 16 years of his life."
****
***
*Some interesting thoughts:
If Israel is really an apartheid state as it's detractors often assert, then that must mean that all the Arabs who falsely claim to be and identify as Palestinians are really residents of Israel and the borders of Eretz Yisrael are exactly what the League of Nations decided by the Mandate for Palestine and therefore, one must conclude that they have legitimate claims against Israel.
If Israel is NOT an apartheid state, but rather, as a sovereign state that possesses clear title to all of Eretz Yisrael, including Judea, Shomron/Samaria, Benjamin and the Jordan Valley, etc. and has the right to decide who shall be it's citizens and residents; then just what status do the Arabs that reside in Eretz Yisrael possess since it is the Apartheid state of Jordan and the Hashemites who refuse to recognize that they and the Arab League have artificially created the myth that there are "Palestinian Refugees" in Jordan and Eretz Yisrael?
Because the Arabs whose origins are the Kingdom of the Hejaz refuse to recognize Jewish sovereignty over all of Eretz Yisrael, will not accept it's laws, courts or the historical continuous inalienable and unalienable legal title to all of Eretz Yisrael and falsely claim indigenous origins in Eretz Yisrael when they were given political independence in the Mandates for Mesopotamia (Iraq), Syria and Lebanon; as agreed to in the Faisal-Weismann Agreement: then one must conclude that they are foreign "hostile belligerent nationals" of (the Kingdom of the Hejaz) "trans-Jordan" illegally and unlawfully occupying Eretz Yisrael…!
In conclusion, one must assert that the Arabs do have legitimate claims but they should direct them at the Arab League and the Hashemites who refuse to nationalize them by "collective naturalization" and provide them with all the rights they may be entitled to as Citizens of the nations in which they were born!